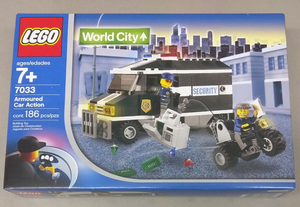 Armored Car Action LEGO 7033 [Retired] NIB 2003
Regular price $59.99 $59.99 Sale
The Armored Car Action LEGO set (7033) is an exhilarating and action-packed toy that allows children to engage in thrilling missions and defend against adversaries. Inspired by the world of brave heroes and dangerous villains, this LEGO set brings to life an armored car equipped with an array of exciting features and accessories.
At the center of the set is the heavily armored car, designed for maximum protection and mobility. The vehicle features a sturdy chassis, rugged tires, and a sleek design that exudes power and strength. It is equipped with a rotating turret, which can be controlled by the mini-figure driver inside the car, providing a 360-degree field of fire to take on enemies from all directions.
The set includes a variety of mini-figures that add depth to the storytelling experience. It features brave and skilled heroes who are ready to face any challenge, alongside menacing villains seeking to cause chaos. Each mini-figure comes with unique accessories, such as weapons and tools, allowing children to customize their characters and create thrilling scenarios of conflict and heroism.
The Armored Car Action LEGO set offers several exciting play features. The car's turret can rotate and elevate, enabling dynamic and interactive play. The vehicle also has opening doors, allowing the mini-figures to quickly enter or exit the car during intense missions. Additionally, the set includes hidden compartments and storage spaces where secret items or valuables can be stored.
Building the Armored Car Action LEGO set provides an engaging and enjoyable experience for children. With 97 pieces, the set offers a moderate level of difficulty, making it suitable for both experienced builders and those new to LEGO. The step-by-step instructions guide builders through the process, encouraging the development of problem-solving skills and spatial awareness.
Overall, the Armored Car Action LEGO set (7033) is an exciting toy that stimulates children's imaginations and brings their action-packed adventures to life. Whether they are battling against villains, rescuing hostages, or defending valuable assets, this set offers endless possibilities for creative play and storytelling.
---