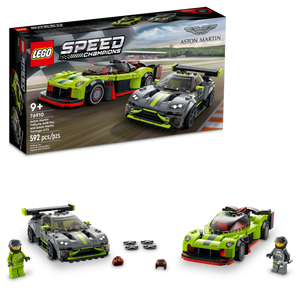 76910 Aston Martin Valkyrie AM Pro and Aston Martin Vantage GT3 Certified
Regular price $37.99 $37.99 Sale
Note: This is a Certified Product - A previously used item that may be in the original box or a new plain white box. Guaranteed to have all parts and instruction manual.
Here's a winning combination for fans of superfast cars – the LEGO® Speed Champions Aston Martin Valkyrie AMR Pro and Aston Martin Vantage GT3 (76910) toy building set. Now available to collect, construct and explore, these accurately detailed LEGO models deliver a rewarding building experience, are great for display and awesome to race!
Digital building instructions
This Speed Champions set comes with printed and digital building instructions. Available in the free LEGO Building Instructions app for smartphones and tablets, the interactive digital guide comes with amazing zoom and rotate tools that allow you to visualize a model from all angles as you build.
Celebrating innovative design
LEGO Speed Champions sets deliver buildable versions of the world's most popular and innovative vehicles. The fun-to-build, collectible models are great for display and imaginative racetrack drama, making them a great gift choice for kids and automobile enthusiasts of all ages.
LEGO® recreations of the Aston Martin Valkyrie AMR Pro and Aston Martin Vantage GT3 – A playset for kids and car enthusiasts with a passion for race cars and vehicle innovation
What's in the box? – Everything you need to recreate the Aston Martin Valkyrie AMR Pro and Vantage GT3 in LEGO®  bricks, plus 2 driver minifigures, each with a racing suit, helmet, wig and a wrench
Collect, play and display – These collectible toy cars are designed for display and imaginative racetrack role play
A gift for any occasion – The 592-piece LEGO® Speed Champions Aston Martin Valkyrie AMR Pro & Aston Martin Vantage GT3 (76910) can be given as a birthday or anytime gift for kids and car fans aged 9+
Easy to carry and store – The Aston Martin Valkyrie AMR Pro measures over 1.5 in. (4cm) high, 7 in. (18cm) long and 3 in. (7cm) wide
No batteries required – The cars in this playset are powered by kids' imaginations, so the racing action never stops!
Interactive digital building guide – Zoom, rotate and view each model from all angles as you build with the LEGO® Building Instructions app, available for smartphones and tablets 
Putting innovation in the driving seat – LEGO® Speed Champions building sets give kids and car enthusiasts the chance to explore the innovation of vehicle design
A focus on quality – LEGO® components meet strict industry standards to ensure they're consistent, compatible and fun to build with
Tested for safety – All LEGO® building toys are carefully tested to ensure every playset meets strict safety standards
---