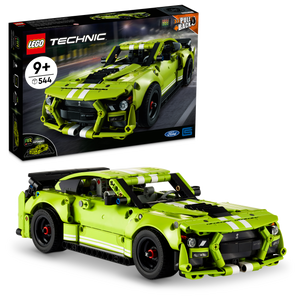 42138 Ford Mustang Shelby GT500
Regular price $55.99 Sale
This is the legendary LEGO® Set 42138 Ford Mustang Shelby GT500! Get ready to rev your engines and experience the iconic American muscle car like never before with this incredibly detailed and authentic LEGO set.
The LEGO Set 42138 captures the essence of the Ford Mustang Shelby GT500 with its bold lines, muscular body, and iconic racing stripes. This set offers a thrilling building experience as you piece together each element of this legendary vehicle. From the sleek exterior to the intricate interior, every detail has been meticulously recreated to ensure an accurate representation of this automotive icon.
Once assembled, the Ford Mustang Shelby GT500 is ready to hit the open road! This set features a host of impressive details such as a removable roof, opening doors, and a functional steering mechanism, allowing you to maneuver the car with precision. The set also includes a mini-figure driver and a wrench for authentic pit stop role-playing.
Immerse yourself in the world of high-performance racing as you recreate exhilarating scenes from the track or create your own thrilling adventures. The LEGO Set 42138 sparks creativity and invites you to explore the boundaries of your imagination, making it the perfect set for LEGO enthusiasts and car enthusiasts alike.
Built with LEGO's unwavering commitment to quality, this set guarantees a rewarding building experience and ensures that your Ford Mustang Shelby GT500 will withstand the test of time. Each brick is designed to fit seamlessly, ensuring a sturdy and durable model that can be proudly displayed or played with for hours on end.
Whether you're a collector, a LEGO enthusiast, or a fan of classic American muscle cars, the LEGO Set 42138 Ford Mustang Shelby GT500 is a must-have addition to your collection. Explore our website today and bring the power, speed, and timeless style of this automotive legend into your hands!
---