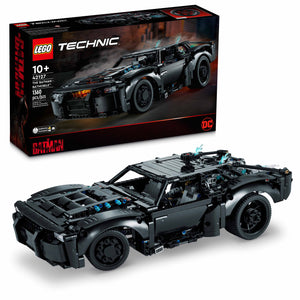 42127 The Batman - Technic - Certified (used) in plain white box
Regular price $119.99 $64.99 Sale
Note: This is a Certified Product - A previously used item that may be in the original box or a new plain white box. Guaranteed to have all parts and instruction manual.
Take a look at the iconic LEGO® Set 42127, The Batman Batmobile! 
Prepare to embark on an action-packed adventure in Gotham City with this thrilling and highly detailed LEGO set that will ignite the imagination of Batman fans of all ages.
The LEGO Set 42127 captures the essence of the legendary Batmobile with its imposing design, sleek black exterior, and advanced weaponry. This set offers a rewarding building experience as you construct the Batmobile, piece by piece, witnessing its impressive features come to life. With its realistic details and authentic styling, this set is a must-have for any Batman aficionado.
Once completed, The Batman Batmobile is ready to hit the streets in pursuit of justice! It features a cockpit that opens to reveal a detailed interior, allowing you to place the included Batman and Joker minifigures for epic battles. The vehicle also boasts cool functions like a working steering mechanism, adjustable spoiler, and rotating stud shooters, providing endless possibilities for thrilling role-playing scenarios.
Immerse yourself in the world of the Caped Crusader as you recreate famous scenes from the Batman movies or invent your own exciting missions. The LEGO Set 42127 is designed to ignite your creativity and storytelling skills, offering hours of immersive playtime and entertainment.
Crafted with the highest quality standards that LEGO is renowned for, this set guarantees durability and endless enjoyment. Each brick is precision-engineered to ensure a seamless building experience, allowing you to fully immerse yourself in the creation of this iconic vehicle.Whether you're a LEGO enthusiast, a Batman collector, or a fan of thrilling superhero adventures, The Batman Batmobile LEGO Set 42127 is a must-have addition to your collection. Explore our website today and bring the power, style, and excitement of the Dark Knight's most iconic vehicle into your hands!
---